Online Wallets For Casino Banking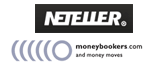 When it comes to making large deposits and withdrawals, online wallets are one of the preferred options after Bank Wire and Check (if available) for high limit players.
These online wallets typically have higher deposit and withdrawal limits than Credit/Debit Card deposits. Below is a list of the most popular online wallets.
The most popular online wallets are Neteller and Skrill.
My personal favorite online wallet is Skrill, closely followed by Neteller. All of these wallets are very good though, it's just my personal preference.

What Is An Online Wallet?
An online wallet is pretty much what you expect; an online wallet for your money to make payments with. If you have ever used Paypal before, it is a lot like that.
Basically, you can open an account with any of the online wallets above and fund them via your Credit/Debit card. You can then use the money in your account to fund your online Casino account and withdraw back to the online wallet and so on.
Why Use An Online Wallet?
There are two advantages of using an online wallet as opposed to making a deposit directly to a Casino with your credit card.
Higher deposit and withdrawal limits (usually).
Faster payments and withdrawals.
There is also the advantage of not having to register Credit Cards with the Casino, but then again I am more than happy to register my details and make a payment with my Debit Card at any of the high limit online Casinos on this site.
Nonetheless, the higher payment limits and faster deposits and withdrawals are the two biggest advantages of using an online wallet to fund your Casino account.
Where To Use Online Wallets
You can use online wallets to fund almost any Casino, Sportsbook or high limit Poker account. As mentioned, Neteller and Skrill are the most widely accepted.
You can find out about the deposit limits for these popular online wallets on the Casino deposit limits page. Alternatively, you should check out the reviews of each individual Casino for more information on the deposit options and limits.
Pinnacle Casino and VC Casino are two prime examples of Casinos that allow high deposits and withdrawals via online wallets. You can make $50,000 payments at Pinnacle and £50,000 payments at VC Casino for both Skrill and Neteller.
Should You Use An Online Wallet?
As a high limit player, you have to tick 2 boxes to find out whether online wallets worth your while.
The online wallets allow you to make big enough deposits and withdrawals.
You are a regular player and enjoy possibly play at more than one Casino.
First of all, if you are planning on making deposits and withdrawals larger than ~$50,000, you're better off sticking with Bank Wire. If you're not however, online wallets are going to be a great option.
Secondly, if you like to move your money around quite frequently online, then they are going to come in very handy with the fast withdrawal times. However, if you like to stay with one Casino for a long time, then an online wallet isn't going to be quite as useful, although it would be perfectly fine for you to use one.
At the end of the day, if you are happy with using Bank Wire or Credit Cards, then stick with that. However, it is good to know that there is an alternative available if you are after a more flexible solution.